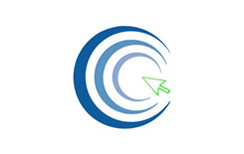 Brand: ClixSense
Website: www.clixsense.com
Overall Rating: 7.5 out of 10
Membership Cost: $0.00
Founder: Steven Grisky
Current Owner: Prodege LLC
Clicks That Culminate in Wealth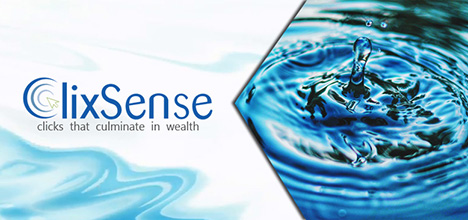 If your search for an online income opportunity has brought you here, then you've stumbled across one of the most common exemplars of said opportunity that is GPT.
A GPT (Get Paid To) or reward website is where you earn through survey participation, task completion and other quotidian online activities.
If you've taken a survey conducted by your service provider or admired brand, GPT is a platform which coordinates similar surveys in a manner that allows you to generate income by sharing your valued opinions. ClixSense is one such platform, where the subtle ripples of your clicks, gradually culminate in wealth.
Whether you're a newcomer looking to eke out pocket money for free, or a marketing expert willing to build a steady revenue stream, ClixSense has attracted members of both forms. It's based on a working business model that has proven its stability and longevity.
Renowned for its legitimacy, ClixSense is prompt in paying you your earnings. Its potential however, depends on how you utilize it. It's not a get-rich-quick scheme. So unless your efforts are substantial, you won't have much to gain from it.
ClixSense isn't known for failing its members and has kept its promises since it began in February 2007. It's an ever innovating business which has a solid network of partners and over a million members on-board.
A Multifaceted Income Opportunity
The income opportunity of ClixSense can be divided into five facets. Paid surveys, cash offers, Appen tasks, the daily checklist bonus and the affiliate program.
The Highest Paying Surveys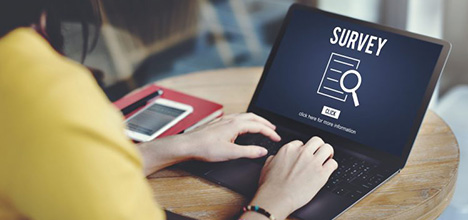 Working with third parties such as PureSpectrum, YourSurveys and Peanut Labs, ClixSense brings you surveys that pay the most.
Of all the methods available to make money through your own effort on ClixSense, taking surveys is the most profitable.
Every survey you complete can help you earn from $0.10 to $5. The duration of these surveys varies from 10 to 30 minutes. Your location, profession, interest and many other factors will determine the number of surveys you get each day. Said factors also influence their rewards and availability.
An aptitude for completing surveys could easily supplement your monthly income with a few hundred dollars. Such an opportunity shouldn't be missed due to negligence. You should therefore, join ClixSense today!
The Remunerative Cash Offers

Cash offers are another noteworthy avenue of income on ClixSense. It entails testing new products and services, watching videos, signing up for websites, downloading apps, etc. Third party providers such as Persona.ly, Peanut Labs, AdGate and Coupons help draw these offers to ClixSense.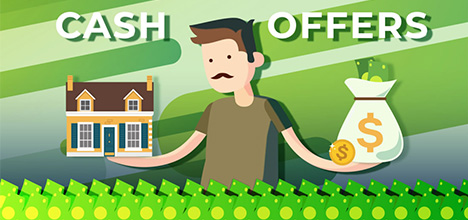 While they range in compensation, it's better to try as many offers as possible until you find the ones that best suit you.
You're likely to get paid less than what is paid for completing surveys.
However, offers with relatively high payments can be consummated by submitting your credit card information.
Generally, the rewards of such offers far outweigh the costs of participation. So if there's no reluctance on your part to share your credit card credentials, you'll be generously remunerated.
The Amenable Appen Tasks
Although time-intensive for entrants, Appen tasks pay adequately. Through a process of progression and elevation of levels, higher level tasks with better payouts are unlocked. To get access to level 1 tasks, 100 "test questions" will have to be answered with a 70% accuracy at minimum.
Once there, the pay per task will ameliorate significantly, and you'll have enough Appen tasks to keep you occupied throughout the day. A number of members are performing 300-400 tasks daily, and presumably earning a livelihood.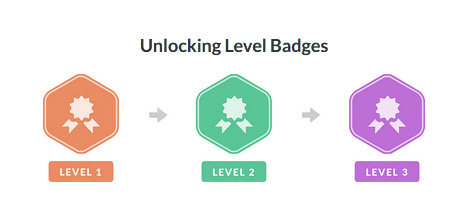 It's a great alternative for people from India, Bangladesh, Philippines and other countries where surveys are scarcely available. The allocation of reward isn't instant. You'll have to submit your work for approval and await verification.
Appen tasks are amenable to be performed according to your preferred schedule. However, you can swiftly earn above the 200 dollar threshold by working 3-4 hours a day. Which is satisfactory for a part-time extra.
The Daily Checklist Bonus
Active members are eligible to receive an extra reward on ClixSense. For each day that you complete the Daily Checklist, a 12% bonus of your total earnings will be added to your account balance. The Daily Checklist requires you to do any of the following to qualify:
Complete at least 10

Appen

tasks; or
Complete at least 2 offers or surveys; or
Complete at least 5

Appen

tasks and 1 offer or survey.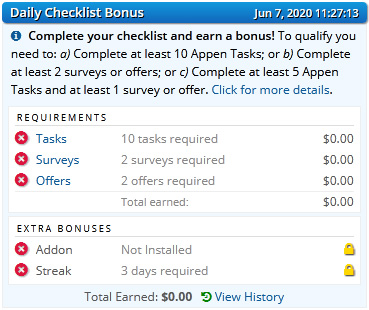 This combined with two extra layers of bonus, make the maximum possible bonus a colossal 16%.
The first of the two layers is the ClixAddon extra bonus of 2%.
In order to earn this, run the ClixAddon after completing the checklist for an hour with survey notifications enabled under options.
The second layer is another 2% of the activity extra bonus.
This can be earned on the third day of completing the checklist in a row and is applicable to that day only.
The Lucrative Affiliate Program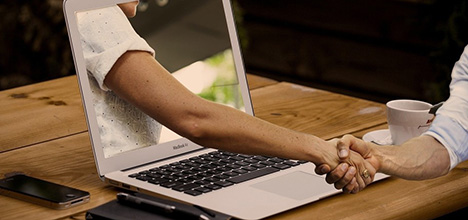 The affiliate program offered at ClixSense can be leveraged to generate a full-time income.
Constituents of the program can be divided into two.
Signup commissions & activity commissions.
The former of the commissions can be earned for every referral that becomes active. You'll either receive $0.10 or $0.30 from top tier countries. In addition to that, another $2 can be pocketed upon your referrals earning their first $5 (excluding bonuses and commissions).
The latter is a 20% commission gained for every approved survey, offer and task your referrals complete. Having a minimum of 100 active referrals or more, with one transaction at least in the past 30 days, an extra 5% affiliate commission can be made. Increasing your commission level to 25%. To get to the optimum commission level of 30% through earning an additional 10% commission, 200 or more active referrals are required.
The number of ClixSense referrals you can recruit is without limits. So essentially, your income potential is infinite.
The Most Appreciated Qualities of ClixSense
Unequivocally Cost-free. Unlike so many supposed home based income opportunities that charge

you

ludicrous amounts of money, ClixSense is completely free to join with no hidden usage fees.
Trustworthiness. Even under intense scrutiny, ClixSense has stood up as a reliable online income opportunity. The Better Business Bureau (BBB), an organization dedicated to advance marketplace trust, ascribed an A rating to it as a stand-alone company. Now as a subsidiary brand of

Prodege

LLC, it has inherited the same A+ BBB rating as its parent company.
International Availability. ClixSense can be accessed from almost any part of the world. Also, the methods used to process payments are mostly available worldwide. This is very beneficial to those who're unable to participate in major money making platforms due to their geographical location.
Some
Median

Drawbacks

If exploited properly, ClixSense can prove to be a stellar online income opportunity. However, it'd be wrong to suggest that it's without its disadvantages. Below is an honest disclosure:
Tediousness & Low Income. You're likely to get worn out by the tedium of taking well-paid surveys. Unless

you

spend and at times waste a lot of time or are able to build a team,

you

'll not generate more than an allowance.
Non-instantaneous Payments. Your payments won't be processed instantly. A waiting period of 5 to 7 business days needs to elapse. It may also be difficult to reach the minimum withdrawal threshold of $5.
Country-specific Income Potential. Members from the US, UK and some European countries that are among the top tier, have the highest earning potential. Consequently, residents of tier 2 countries will have a relatively lower income.
Midstream Disqualification. Dithering your way through the surveys may only lead to

you

discovering, they weren't worth the time spent on them. As getting disqualified by third party surveys in the middle of the process, is an occurrence not too rare.
Despite the cons, a 4 figure monthly income is possible on ClixSense. The highest earner I've come across generates 2000 dollars per month, and has made a lifetime total of $81000 in 5 years time. All this he accomplished residing in India, a tier 2 country.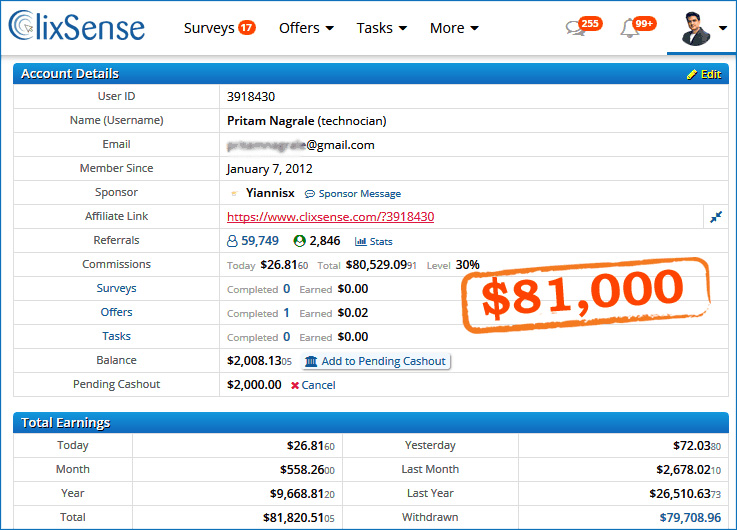 A Brief Historical Background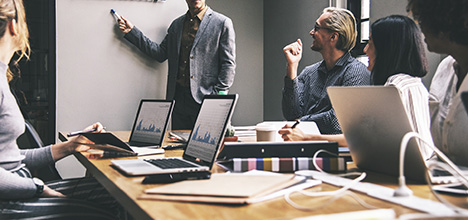 In early 2007, ClixSense began as a website offering free access to micro tasks, that can be performed to earn money from the comfort of your home.
For instance, members were rewarded for viewing ads, completing surveys or playing games.
The idea was first conceived by Steven Grisky. The man who was the administrator of ClixSense during its initial three years.
Later, in 2010, the company was acquired by Jim Grago. He is the founder of Adhitz.com, a thriving advertising network, and has a network marketing experience of over 15 years. His innovative imagination and intelligent management, contributed greatly to the first-rate evolution of ClixSense.
WHOIS: ClixSense Inc was headquartered at 210, Bates Retreat – Hampstead, NC 28443 (USA).

In late July 2019, due to Jim Grago's desire to move on to work on other ventures, the ownership of the company was handed over to Prodege LLC. An American online marketing company based in El Segundo, California.
Transitioning to
ySense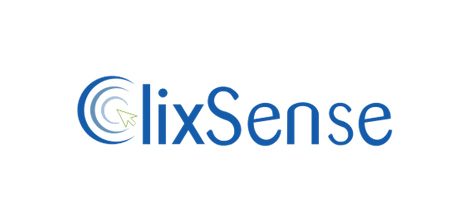 With the handover of ownership, rebranding also occurred.
ClixSense renamed itself to ySense, and brought back PayPal which it had removed on 8th February 2017.
Gift cards from top global brands like Amazon and prepaid MasterCard / VISA (in select countries) were also made available as payout options.
ySense more or less has all the same features as its predecessor. The addition of survey providers like ProdegeMR, and offers to make money from top brands like Uber/Tidal were the only noticeable changes made. New ways to earn are expected to be added over time.
In spite of the name change, I've chosen not to call this blog post a ySense review. As for me, the name doesn't emanate the same artistic integrity as ClixSense.
Strategizing

for Active Referral Recruitment

Implementing the right strategy is crucial to capitalize on the affiliate program offered at ClixSense. The recruitment of referrals is of no value unless they're active. An integrated strategy of exposing ClixSense to a target audience and a distinctive presentation of the platform should substantially enhance your chances of getting lively referrals.

Targeted Audience Exposure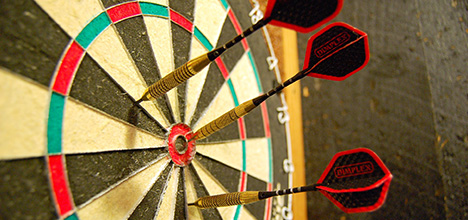 As mentioned before, the availability of surveys/offers varies depending on the country.
Therefore, it helps inordinately to know which countries perform the best.
Details gathered by contacting ClixSense and their partners have revealed North America to be the highest paying due to the optimal availability of surveys and offers.
Active referrals of the continent, especially from the US and Canada generate the topmost commissions. The UK, Germany, France and Australia are next in the queue. Data tracked from a representative sample of 5000 referrals suggests that Mexicans also perform exceptionally well. The top five earners of the sample included three Mexicans, and each of them had completed over 1000 offers.
Geo-targeted exposure of ClixSense to the aforementioned demographic will result in the adept harnessing of its affiliation power.
Unique Website Presentation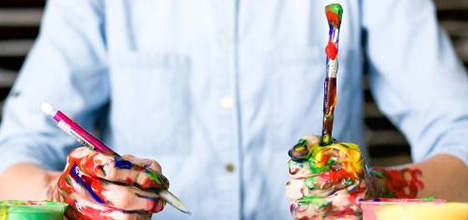 It's probably a safe bet to say that a prominent GPT such as ClixSense, has thousands of affiliates doing their utmost to build a team.
Nonetheless, not knowing how to market the site renders most of their efforts in vain.
So a website presentation that stands out, can go a long way in gaining a competitive advantage. A few recommendations are listed below:
Preferably Advertise through Pay-per-click. Due to the ultra competitive nature of the website, advertising on a view/impression basis isn't the best idea.
Create Custom Marketing Materials. While the majority uses the default marketing tools, creating custom banners and branding them with your unique logo can drastically improve your odds of getting referrals. Custom splash/landing pages are also marketing aids of ample importance.
Learn

Affiliate Marketing.

Leveraging any affiliate program to its highest extent, requires an in-depth knowledge of affiliate marketing. The same rule applies to the referral program of ClixSense. An online course in digital marketing can help immensely to acquire that knowledge. Starting a blog and creating contents related to ClixSense that rank on the first page of search engines, is the cognoscenti's way of driving organic traffic. Such traffic has the highest probability of converting into active referrals. Taking an online marketing course equipped with the tools needed for blog building and content creation, can pay off immeasurably in achieving similar expertise.
ClixSense and the Rippling Process of Culmination

The myriad of clicks that are made online, more often than not, only add to the mundane sterility of life. Their potential remains unrealized, due to them being untethered to a directed purpose. ClixSense is that contrivance which brings a teleological sense to their seemingly senseless nature.
A click on the website can be likened to the tossing of a pebble that causes its waters to ripple. Nonetheless, the ripples are quick to dissolve after the circumference of each crest reaches its highest length. The brevity of their effect cannot be prolonged without you taking additional action. Hence, the mere creation of an account won't lead to immediate success.
Rather, it's the perpetual process of making clicks to mark the checkbox of a survey, or submit a completed task that creates further ripples. The merging of these ripples, rouses every fading ripple to expand diametrically, increasing the breadth of their reach. Thus, through many highs and lows, carried by the crests and troughs of the ripples, your efforts reach the shores of wealth.

Note: Attached to this blog post is a brilliant piece composed by Mary Lattimore. I see it eloquently depicting the overall tone of the post. Please make time to find out more about her remarkable compositions.
Pose queries and leave thoughts elicited by this review article in the comment section. I'll ensure their clarification and entertainment respectively.